A Deaf Youth Club has now been started in Mumbai (April 2010)
---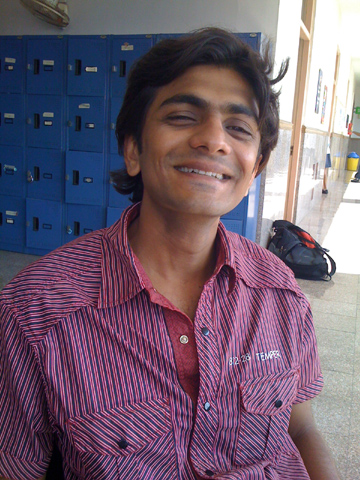 Mr Vicky Shah
Vicky Shah participated in the International Youth Leadership Training Course Frontrunners from August 31st 2009 to December 11th 2009, held at Castberggård Folkhögskole för Döve og Hörselhämmade (Casterberggaard Folk High School for the Deaf) in Denmark.
The Frontrunners course, which follows the philosophy and aims of the World Federation of the Deaf, is based on the principles of the Universal Declaration of Human Rights.
With some 4,000,000 deaf people in India and with less than 30% of them being given the opportunity to obtain an education of any kind, lots of positive changes are needed.
When I talked with Vicky in April 2010 he pointed out that the few deaf that are actually given any education at all are forced to attend oralistic schools that treat sign language as a problem. Sign language is the solution not the problem!
Hearing people can learn to sign, but the deaf can never learn to hear.
Vicky and some friends have now started to build a Deaf Youth organisation in Mumbai. They have enthusiasm, and a burning desire to help create a better life for the deaf in Mumbai and everywhere in India. What they are lacking is resources. They need to make some relatively low-cost investments, such as a used computer and a printer.
Perhaps other Deaf Organisations around the world can contribute to making Vicky's new Deaf Youth organisation a success?
You can write directly to Vicky by clicking on: Mr Vicky Shah.

Return to main page